"It is never too late to be what you might have been." ~George Eliot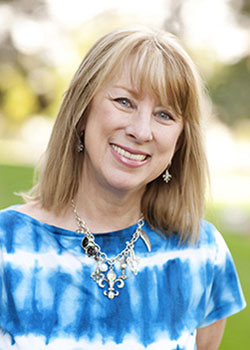 By Linda Lochridge Hoenigsberg

If I had to pick a "life" virtue, one that I believe I have cultivated the most in my life, it would be perseverance. To quote Stacey Thompson, founder of Virtues for Life, perseverance "is the will to see things through until the end, in spite of fear, obstacles, discouragement, and opposition." This virtue is so much a part of the fabric of my life that I have felt it to be a gift I was given rather than something I developed on my own. At times when many people would have thrown in the towel and called it quits, I could no more have stopped where I was headed than trying to stop pushing during childbirth! Something was about to be born and there was no way I was going to get off my path of pursuit!
I was raised in an alcoholic, neglectful home. I didn't understand it at the time, but there were reasons my parents let go of their own dreams and coped by using alcohol and prescription drugs. Unbeknownst to me, my mother's brother committed suicide when I was 9 months old. Around that same time, my father almost lost a leg when he rescued a co-worker from a fire at their place of business. His leg was saved, but he lived with terrible, chronic pain. My brother and sister and I reacted to the neglect the way most children and teens would react…we acted out.
By the time I was fourteen-years-old, I was considered incorrigible. I was incarcerated in juvenile hall in Los Angeles, California. At fifteen, I was kicked out of high school for truancy and suspicion of dealing drugs. At sixteen, I married my boyfriend. He was five years older than I and on parole for grand theft auto. He was a burglar, and our friends included pimps and gang bangers of Watts and East Los Angeles. I saw the worst of life during those years. We had our firstborn son when I was seventeen, and my husband abandoned us by my eighteenth birthday.
I was so devastated by life, that I attempted suicide and was placed in the Metropolitan State Mental Hospital when I was eighteen-years-old. Two weeks after checking myself out "against medical advice," I was gang-raped by six young men. I felt I deserved what I got, and I spent the following year on the streets, doing drugs and being used by others. Soon I entered into a very abusive relationship with a heroin addict. We had a daughter together, but I took my children and ran away, never seeing him again.
By the time I turned 23-years-old, I was very seriously mentally ill. I suffered panic disorder, agoraphobia, and major depression with psychotic features. Within the next few years, I experienced the suicides of both my brother and my father. Thoughts of my own suicide became a constant companion.
I began to think about God. I thought that if He does not exist, I might as well kill myself and get this whole thing called life over with. But instead I turned to a little white church in the middle of a quaint residential neighborhood in the town I lived. It was there I found hope for the first time, and my life began to turn around. My faith grew and I determined to live my life for the Lord until I took my last breath on earth.
It was still a struggle. It would be years before I was well. But I kept on. Something inside me would not let me give up and I felt God helping me through every trial. During this time a dream was birthed in my heart. I wanted to become a psychotherapist and reach out to other hurting people. But trials continued to challenge me.
In 2000, when I was 49-years-old, I fell down a flight of steep stairs in my Victorian house. I broke my neck and developed chronic muscle spasm and pain. For a while, I again despaired of life, but perseverance came to my rescue. I began to think about the dreams I had left behind, and my desire to become a psychotherapist came rushing back. I decided to go for it! I entered college at 51-years-old and four years later I graduated Maxima cum Laude with a BA in Psychology. I was on my way!
That summer, after being accepted into a master's program at a university, I got some disturbing news. I had a brain tumor. It was located in what two neurosurgeons considered an inoperable part of my brain…underneath the brain almost on the brain stem. I was given one year to live. I was shocked and full of fear.
But I just "knew" that God was not finished with me yet. I did not believe he had brought me all this way just to take me home early. I didn't feel special; I just felt that it wasn't my time.
I found a renowned neurosurgeon in Los Angeles and he agreed to look at my MRI. I'll never forget his phone call…simple, but profound words, "Linda, I can help you." But when I awoke from brain surgery, I couldn't walk. My eyeball had traveled towards my nose and I could not see. I had terrible tinnitus and unrelenting fatigue. The recovery would take several years. I could not walk across the bedroom without support. So what did I decide to do with my time in bed? I decided to get my masters degree, of course!
For the next three years I "attended" classes online at a fully accredited university, laying in bed with a laptop on my lap. I had to attend two out of state residencies. For the first one, I used a power chair to get around. By the following year, I was able to walk on my own, but was still extremely fatigued. Nothing was going to stop me.
I graduated with a 4.0 and had my diploma in hand, but now came the hardest part. In order to become a licensed psychotherapist I needed to earn 3,000 hours of face-to-face counseling experience. I was still suffering from the effects of the surgery, but perseverance won the day. I was hired by an agency that treats abused and neglected children and adolescents and worked there for two years, helping to start their outpatient clinic and a program that uses dialectical behavior therapy to treat problems that include emotional dysregulation.
I got my license and opened a private practice. I now treat adults and adolescents with problems similar or worse to what I went through earlier in my own life. I am also developing an online course so that many others may have hope and skills that will help them build lives like mine, ones that are worth living and have meaning and purpose.
A favorite quote of mine, one that hung in a frame above my desk for years, is, "It is Never Too Late to Become What You Might Have Been." My passion in life is to help others believe that for themselves.
AUTHOR BIO
Linda Lochridge Hoenigsberg is a therapist in private practice. She lives in the Rocky Mountains with her husband Tom and their goldendoodle Emma. She and Tom have five children between them, 10 grandchildren, and 2 great-grandchildren. She is writing a book about her life. You can find her at www.changeyouremotions.com and at www.lindahoenigsberg.com.